I can't believe that I have forgotten about my "Gilded Pear" button. It wasn't until
Mrs. R
was searching for it that I realized it had never made it's debut. So, to debut my fabulous button, I thought I would say some nice things about it.
1) I love it's green color combination and pattern
2) It's rounded corners are the best and would make for a great coaster
3) The "stamped" font is so great and makes me miss my stamping days
4) The little pear is just adorable with it's scratchy details
Allow me to introduce The Gilded Pear button: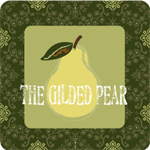 Just copy and paste this html into your sidebar for a direct link to my blog.